Ask any dealer or manager to tell you what they do and the answer you likely will get is they sell cars, or they sell and service cars. If you also ask them to tell you metrics on selling and service they can give you close rates, profit,  hours per RO, and many more. Dealerships are a metric driven business, but there are two high powered metrics we have yet to track and utilize. Ken Potter, vice president, Dealer Development, at TrueCar, will examine the best practices of the largest seller of used cars in the world to learn one and we will take what you already have and create the other. These two metrics will change how you think and how you do business day to day, while also shining a bright light on all your traffic sources. Ken Potter is sharing his expertise with you.

Ken Potter is vice president, Dealer Development, at TrueCar. He manages TrueCar's field sales and inside account management teams, and oversees TrueCar's efforts to grow and retain its network of dealer partners. Previously, Potter was vice president and general manager, automotive, for Internet Brands, Inc., where he had profit and loss responsibility for CarsDirect.com, and established processes for profitable and sustainable business. During his 11 years with Internet Brands, he also oversaw inside and outside sales, customer service, accounting and automotive product development. Potter's career in the automotive industry also includes serving as general manager of two car dealerships, including nearly five years at CarMax.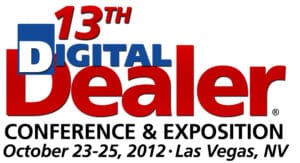 A 13th Digital Dealer® Conference & Exposition Featured Speaker: Ken Potter presents:  Finding the Missing Monetization from your Current Sources of Traffic: Learn how to use two metrics you don't track now to maximize revenue and evaluate all your marketing spends.
We're building out the agenda, selecting speakers and topics for more than 100 sessions that are laser-focused on all things digital.
The Digital Dealer Conference & Exposition is the premier educational conference and expo dedicated to Internet and technology solutions for automotive professionals. Digital Dealer events deliver the largest array of speakers, peer to peer opportunities, and exhibit hall offerings – all carefully designed to impart cutting edge business strategies. With an audience of the industry's most progressive dealers and managers and the most innovative conference format, Digital Dealer provides the ultimate learning and networking environment.  For more information, visit:  www.DigitalDealerConference.com
Author: