Even the best dealerships can benefit from an outside perspective from time to time. Not perspectives offered by experts from other industries, who share insight that might be relevant to your business, but thought leaders that have worked in dealerships, with dealerships and can demonstrate 'how to' improvement ideas directly from the automotive industry.
By working with experts in critical areas of your operation such as:
Google Strategies
Facebook Strategies
Mobile Apps
e-Newsletters
Search Engine Optimization (SEO)
Social Media Strategies
BDC Processes
Video Strategies
Telephone Scripts
Fixed Operations Mobile Strategies
You can make improvements that will advance your business and ultimately improve your bottom line.
Google strategies:
Google searches are responsible for two-thirds of dealership website views, so using this resource effectively really has an impact on helping customers review, find and ultimately choose to visit your store.
Google's Dealer Jumpstart Team is completely focused on helping car dealers utilize digital solutions to  further develop their regional and local advertising strategies. There really is no better source than Google personnel to learn how to use their platform, as they literally wrote the book. Sit down directly with members of the Google team and get improvement ideas from the definitive source.
Facebook strategies:
One out of every five page views on the Internet today is Facebook. With hundreds of millions of loyal users, Facebook may be the single most important tool to influence your current and emerging customer bases.
Alexi Venneri, COO of Digital Air Strike, has a proven track record of helping dealers engage with more customers, improve online reputations and increase website traffic. Show him what you're doing on Facebook now and he'll show you how to leverage the Internet giant to build better customer relationships and promote positive reviews.
Dan Moore from Vin Solutions understands that Facebook is constantly evolving, and these changes are influencing dealerships. Moore can show you how to more effectively use new Facebook features to better manage your time and access of your dealership page.
Mobile Apps:
These days most customers don't leave their bedrooms, let alone their homes, without a mobile device. Case in point nearly 80% of car shoppers do pre-buying research on vehicles, dealerships and much more using mobile platforms.
DealerApp Vantage Co-Founder Garland Webb is a guru in customer behavior in a mobile marketing environment and can outline leading dealership strategies for maximum exposure in a mobile world.
Ed Louis, Executive Director at DealerApp Vantage,  is also a thought leader in mobile app business solutions. Louis can outline how native mobile apps are revolutionizing the way dealers communicate with their customers. Learn how to take advantage of popular mobile app stores to provide easy, practical and convenient ways to put your dealership in your customer's pocket.
Cars.com Dealer Training Manager Laurie Foster helps dealerships implement effective internet advertising and sales processes. Foster understands and can show you how today's most successful dealers take a holistic view of their sales operations and what's required to connect with in-market shoppers.
Jack Simmons is also a Dealer Training Manager at Cars.com.  Simmons and has trained 96,000 automotive professionals during his career, has spoken before NADA Dealer 20 Groups and can use his years of experience to illustrate how dealerships are using digital tools to their advantage.
e-Newsletters
Creating relevant, timely content in the form of e-Newsletters is a great way to keep customers informed, communicate sales offering and keep buyers coming to your store.
Bill Peña, Chief Architect at IMN Loyalty Driver, is an accomplished web developer, author, technology trainer, and leader in the automotive industry. Bill has developed new multi-channel content marketing products and campaigns and can outline how to use e-Newsletters to effectively influence customer behavior.
3 Birds Marketing co-founder and Chief Technology Officer Kristen Judd, can show you how to maximize your dealership's most valuable asset, customer data, to create outgoing communications that will help you sell and service more vehicles and increase service retention.
Search Engine Optimization (SEO)
There is a real science to create effective SEO. The most successful dealers recognize that over 88% of customers use search engines to find the vehicle they want to buy. Creating and implementing targeted strategies to appear ahead of your competitors for popular search terms in your market will allow you to speak directly to customers who want to buy or service a vehicle now.
Larry Bruce, partner, MotorTrends Online and president/CEO, MicrositesByU, has 20-plus years of retail automotive and technology experience and can show you exactly what is necessary to increase your search parameters to find customers that are ready to buy and service now.
Erik Simons of CAR-MERCIAL helps automotive manufacturers, associations, ad agencies and dealerships implement digital marketing campaigns to attract, sell and service more customers more profitably. Simons can break down proven strategies to increase traffic, sales and service business through search engine optimization.
Bruce and Simons can demonstrate how leading dealerships have learned how to generate more leads for less money by reaching customers directly through search engines rather than buying lower quality leads from others.

Social Media Strategies
The fastest growing segment of media, Social Media sites are connecting with customers in a way never seen before. Learn how to associate you brand positively by effectively utilizing a number of best practices in the ever changing Social Media world.
Kathi Kruse is an automotive Social Media expert, blogger, author, speaker and founder of Kruse Control Inc. Born in into a family of 'car people', Kruse will combine her passion for cars and aptitude for business to help dealers and managers use today's most effective Social Media strategies to better engage customers to sell and service more vehicles.
Brent Albrecht, Director of Marketing at SocialDealer has over 14 years of experience in Internet marketing and advertising. Brent understands what it takes to incorporate an Internet marketing and Social Media strategies in a dealership's promotional mix.
BDC Processes
Remember when the industry would write out Business Development Center because not everyone knew what the acronym stood for? Now it is commonplace among  dealerships, far more than just a call center, a well-managed BDC can really generate increased revenue and profits.
Joe Webb, founder of DealerKnows, has aptly named his business since he has worked at dealerships for years.  During his time at dealerships Webb created industry leading Internet departments and Business Development Centers.  His departments were consistently responsible for over 50% of the dealership's total sales and 90% of all appointment traffic. His goal is to deliver real world, no-nonsense expertise from an actual in-the-trenches professional.
Michael Markette, Phone Lead Expert and Business Consultant at Call Revu, also can help show you what you need to successfully build your BDC.
Video Strategies
Video has rapidly become American's favorite form of online entertainment and customers are now using it as a research tool when looking to buy new products. The most successful dealers are implementing a more advanced strategy to appear on top of search results with compelling videos that attract and influence customers more effectively than traditional static text and the written word.
Eddie Cawley brings 20 years of automotive experience to serve the dealer community as the head of the Dealer Learning team at Autotrader.com. He began selling cars in 1991 and now utilizes his skills to help dealerships understand how to use video to increase customer time on their website leading to an increase in units sold.
Marketing expert Phil Sura of UnityWorks Media can also outline how to effectively use video to increase SEO and your business.
Telephone Scripts
While new media continues to evolve and is helping dealerships reach and influence customers in ways never seen before, the telephone still plays a major role in creating appointments and driving customers to your store.
Jerry Thibeau is the president and founder of Phone Ninjas, a company focused on helping dealerships improve phone skills. Jerry is a 27 year automotive veteran and has earned the nickname 'the phone Ninja' for his ability to turn even the hardest of phone shopper into a real appointment that shows. Having personally listened to and provided coaching feedback on more than 10,000 sales calls and visited countless dealerships, Thibeau knows best practices in a successful sales call.
Alan Ram,  founder of Proactive Training Solutions, has over twenty years in experience working with dealerships and dealer groups in sales & service telephone training  and many other topics. Ram will suggest ideas that can help create your call center into an industry leader.
Service Mobile Strategies
Every week, thousands of parts are sold on the Internet through mobile applications. On eBay alone, nearly 270,000 vehicle parts and accessories are sold every week. Creating a targeted service mobile strategy can help you claim your share of this growing market segment.
Jeff Clark, EVP Business Development DealerOn, Inc. oversees OEM, channel, and business development initiatives. As a seasoned sales professional with a strong track record of impressive revenue growth, Jeff knows what it takes for a company to succeed. Over the past 17 years Jeff has become an expert in the area of online digital marketing to include all aspects of managing an online digital presence.
Lyndsey Rodriguez, Director of Equity Solutions for Dominion Dealer Solutions, has been instrumental in the success of helping dealers find prime ROI opportunities and expand market penetration. Rodriguez has worked with single store and large dealer groups on the importance of customer retention and industry best practices. She can show you how to focus on service opportunities and not only the customer's next purchase, but continued vehicle sales and service for the rest of that customer's life.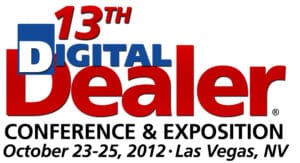 You might be asking yourself where you could possibly meet with such an impressive array of industry experts and how they could all find time to offer ideas to improve your business.
Look no further than the 13th Digital Dealer Conference & Exposition. The debut of Digital Dealer Learning Labs will provide attending dealers and managers with the opportunity to meet with industry experts on how to advance their businesses. Attendees will benefit from customized, actionable feedback delivered by pre-eminent market leaders specializing in areas of dealership operation that drive profitability.
Digital Dealer Learning Labs will be offered on the ten different topics noted, during ten different, fifty-minute sessions staged over the course of the three day conference. Each topic will have a dedicated table situated in the Digital Dealer Exhibit Hall with the thought leaders above offering their years of knowledge and expertise and dedicated time to work on your business.
The format has been designed to provide direct one-on-one coaching between a leading expert and dealership attendees, much like a mini-20 Group. In order to accomplish this goal, each session will be limited to five dealership attendees so subject matter experts can dedicate time to each participant.
Digital Dealer Learning Labs will add to the over 100 sessions, workshops and case studies offering the industry's largest selection of educational content dedicated to using the Internet and technology to sell and service more vehicles more profitably.
In addition, the 13th Digital Dealer Conference & Exposition will feature the industry's premier networking opportunities and more than 100 technology specific product and service providers.
To learn more how attending Digital Dealer can keep your business on the cutting edge visit www.DigitalDealerConference.com
Author: