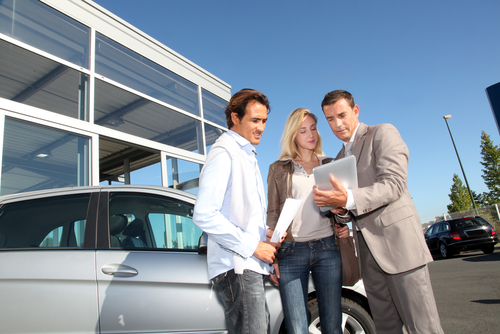 Inefficient auto dealerships can leave customers waiting too long for deals to be completed. But it is getting better. According to Edmunds' Senior Editor Matt Jones, 10 years ago car buyers used to visit five dealerships per purchase before signing a contract compared to only 1.6 dealerships in the present.
The process of sales, financing, and any preparation of vehicles need to make customers feel taken care of. One misstep in the midst of any of that, before a contract is signed, and customers can grow frustrated enough to walk away from the deal.
Here are four tips to make that process work easier for your dealership staff and customers:
Evaluate Your Sales Staff
Your sales staff ought to be meeting the needs of potential buyers and shepherding them to the next step, should they agree to sign a contract.
Many salespeople simply want to close the sale. But a common issue with buyers is that after agreeing to the sale, that they get hung up in the dealership for another few hours. Amy Wilson of Automotive News says that addressing the sales side of the dealership is the first step toward improving processes since "the skill and motivation level of sales and service employees . . . can lead to a better customer experience and reduce the need to discount."
Manufacturers like Mercedes-Benz provide leadership academies and other training opportunities for sales staff to stay on the cutting edge. Consider sending your sales staff through training every year to avoid allowing them to become complacent with customers.
Upgrade Business Development Center
The showroom floor can get disorganized when your sales team is trying to work in different silos—shifting from walk-up traffic to Internet leads. Tools like the cloud contact center service provided by Zipwire can help improve how you manage online sales leads, and effectively get those leads to salespeople to follow up.
A Zipwire subscription provides dealership sales teams with tools like predictive outbound dialing function, multi-chat functionality and after-chat surveys to glean details from online leads. These measures help shepherd customers to salespeople that are already equipped with an idea of what they're looking for before they show up.
Take Care of Your Customers
Everyone from the staff at the front desk to the workers in the garage in the back are working toward servicing car buyers. As a dealership, everyone needs to collectively be customer-focused no matter how often they interact with the customer face-to-face to ensure that people write positive reviews and make referrals to friends.
One way to accomplish great customer service is to make sure that buyers feel like they're getting the best deal possible. Edmunds' senior editor says that the best dealerships give out free repairs and parts or other incentives. It's a simple way of differentiating your dealership from others in the local market.
Create Efficiencies at Financing
Of course, some customers might have poor credit or issues that hang up the process. However, most others should be able to get out the door quickly.
Your staff must understand that that extra time in between an agreement and the final paperwork can lead to poor customer reviews later. Dealership leaders should think about educating staff about how to get through the pitches for security features, rust-protection and other add-ons as simply as possible to maximize the customer's valuable time.
Author: