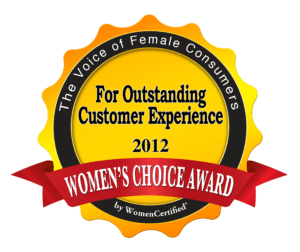 Thirty-four dealerships selected as WomenCertified Top Dealerships for Outstanding Customer Experience for 2011 were honored at the 12th Digital Dealer Conference & Exposition held in Orlando in April.
This Top Dealership list, which is the first in an annual series, identifies the country's top auto dealerships based on female customer satisfaction and women's reported preferences during their car buying, leasing and service experiences.
WomenCertified®, the collective voice of the female consumer, created this important list so that women can identify dealers of choice in their community. The list is being sponsored by Dealer Communications, the leading multi-media information source for franchised automotive dealers and managers, and the owner and operator of the Digital Dealer Conference & Exposition.
Michael Roscoe, president and CEO of Dealer Communications, extends congratulations to all the dealers on the list. "If a dealership provides superior service to its women customers, it will provide that same level of service and satisfaction to all its customers. Earning a place on this list enhances any dealership's reputation for superior customer service. Being identified by women as a dealership that can be trusted is something every dealership should strive for in today's marketplace."
A special luncheon honoring these dealerships at the 12th Digital Dealer Conference & Exposition was sponsored by ELEAD One, a leading automotive CRM and marketing provider in the automotive industry.
Delia Passi, CEO and founder of WomenCertified, and former publisher of Working Women and Working Mother magazines, says, "Congratulations to our Top Dealerships who were selected because 9 out of 10 of their female customers would highly recommend the dealership to others."
Passi added, "We were honored to partner with Dealer Communications to celebrate America's Top Dealerships with the Women's Choice Awards at the Digital Dealer Conference. The dealers were so impressed with the ceremony and luncheon and all the VIP treatment they received at the conference and from our luncheon sponsor, ELEAD One. We can't wait to do this again at the next Digital Dealer Conference in October!"
Eligibility for the list is determined through WomenCertified's detailed surveys of dealers' female customers. Dealerships are scored against the WomenCertified Female Sales and Service Satisfaction Index, which is based on a joint customer satisfaction study with the Wharton School of Business. Criteria for being named to the list include: cleanliness, quality of the sales experience, women's propensity to refer that dealership, and more.
"Through our customer surveys these dealerships demonstrated not only great service, but a sincere commitment to meeting the needs and preferences of their female customers. A sincere thank you to the progressive leaders listed below that are supporting WomenCertified to empower women both in their community, and globally to raise the bar in the customer experience. Women in your community applaud you!" Passi stated.
The following 34 dealerships are on the WomenCertified Top Dealerships for Outstanding Customer Experience for 2011 List.
Those dealerships highlighted in yellow also carry the seal for the Women's Choice Award. Women's Choice Award recipients are those Top Dealerships who have also made a commitment to partner with WomenCertified to promote their distinction in the community.
Acura Columbus, Dublin, OH
Acura of Libertyville, Libertyville, IL
Alberni Toyota, Port Alberni, BC, Canada
Alexandria Toyota Scion, Alexandria VA
Darcars Toyota of Frederick, Frederick, MD
DCH Tustin Acura, Tustin, CA
Don Ledford Automotive, Cleveland, TN
Fitzgerald Toyota Gaithersburg, Gaithersburg, MD
Fresno Lexus, Fresno, CA
Hank Graff Chevrolet, Davison, MI
Harry Robinson Buick GMC, Ft. Smith, AR
Jim Norton Toyota, Tulsa, OK
JM Lexus, Margate, FL
Jon Lancaster Toyota, Madison, WI
Leachman Buick GMC Cadillac, Bowling, KY
Lexus of Edmonton, Edmonton, AB, Canada
Lexus of Orlando, Orlando, FL
Longo Lexus, El Monte, CA
Longo Toyota, El Monte, CA
McGrath Lexus, Chicago, IL
Miracle Motor Mart, Columbus, OH
Paradise Chevrolet Cadillac, Temecula, CA
Rusnak Arcadia Mercedes Benz, Arcadia, CA
Rusnak Audi Pasadena, Pasadena, CA
Rusnak Audi Westlake, Westlake, CA
Rusnak Hyundai Inland Empire, Loma Linda, CA
Rusnak Jaguar, Pasadena, CA
Russell & Smith Honda, Houston, TX
Scholfield Honda, East Wichita, KS
Schumacher Chevrolet, Little Falls, NJ
Suntrup Nissan Volkswagen, St. Louis, MO
Victory GMC Trucks, Calera, AL
Westchester Toyota, Westchester, NY
Wheelers Automotive, Marshfield, WI
(See related story on this page for the first dealers named to the ongoing WomenCertified Top Dealerships List for 2012.)
These 2011 award recipients were extremely enthusiastic about being named to the list. Here is a sampling of their comments:
"The Women's Choice Award was one of the highlights of going to the Digital Dealer Conference. With all the companies that attend, just about all are there to sell you additional products and services. WomenCertified.com was genuinely just there to say thank you for being a business that takes great care of all customers equally. All of us at Jim Norton Toyota are proud of this award since it is one that rewards our character and is not tied to sales goals or products in any way. Thank you Women Certified!" stated Hans Hulsman, Internet sales director of Jim Norton Toyota, in Tulsa, OK.
Brent Anhorn, marketing brand specialist, at JM Lexus, in Margate, FL, was also very enthusiastic about being named to the list. "Thank you WomenCertified, the team at Digital Dealer and ELEAD One for the world-class treatment throughout the event. We'd like to recognize the hard work and dedication of every JM Lexus associate that earned us this prestigious award. We couldn't have done it without them. It was a great honor to share the stage with so many other dealerships that believe in providing a positive experience for the woman consumer."
Rachel Webb, guest relations director at Lexus of Orlando, in Orlando, FL, concurred. "We would like to express our appreciation to WomenCertified for honoring Lexus of Orlando as a "Top Dealership for Outstanding Customer Experience" at the 12th Digital Dealer Conference & Exposition held on April 4, 2012. This is recognition that we are very proud of and it reinforces our commitment to 'building relationships through better service' for all of our guests."
Liz Kelly, e-commerce director at Suntrup Automotive Group, in St. Louis, MO, was equally enthusiastic: "What could be better? The Women's Certified Award is becoming the modern equivalent to the Good Housekeeping Seal. Both Delia (president of Women Certified) and Judy (president of ELEAD One) went above and beyond what was expected or imagined by honoring us with the Women's Certified Award. We received white glove treatment the entire time. We will continue to strive to educate and train our staff so we may win this award each and every year. This is such an honor and a most prestigious award. I would like to thank Women's Certified for bringing this certification into the automotive market."
Trish Wagener, office manager at Acura Columbus, in Dublin, OH, agreed.  "It was an honor to be part of such a progressive group of dealers with the common goal of outstanding client service. Being recognized with the prestigious WomenCertified Award is an achievement we welcome and embrace."
Tammy Darvish, vice president, Darcars Automotive Group, in Fredrick, MD, was also very pleased, "We were very honored to be part of such an exclusive event that sent a pretty strong message to our industry of the importance of not only recognizing but understanding the vital need for significant attention to such a vital market. Thank you to Judy Hathcock, president of ELEAD One, and Delia Passi, CEO, WomenCertified for being the business partners that took the lead to ensure that this event was all that more special."
Judith Hathcock, owner and president of ELEAD One, who sponsored the luncheon honoring the dealers noted, "On behalf of my team at ELEAD One, I warmly congratulate all the Top Dealerships who not only provide outstanding service, but demonstrate an intuitive understanding of the requirements and preferences of their female clients. We deeply appreciate these progressive leaders' commitment to support WomenCertified and treat all customers with respect and integrity, thereby raising the bar in customer experience. Women in your industry applaud you."
(To read more quotes from dealers named to the 2011 WomenCertified Top Dealerships, list see the article on page 20 in the 2012 April issue of Dealer magazine.)
"Car buying is often viewed as a male-dominated activity," said Delia Passi, "but women not only buy 51% of vehicles today, they also influence 96% of vehicle purchases for their families. Our goal is to identify and reward the dealerships that meet and exceed women's expectations for the car buying process and encourage the industry to better serve their top customers' needs."
"Our study with the Wharton School showed that when you meet the expectations of women, you exceed those of men. This study clearly found that women set the standard for customer service. The top dealerships we've identified understand that meeting this standard is good business – both for the dealership and for the customer. The Women's Choice Award is a win-win," said Passi.
"In establishing this list and the high standards it represents, WomenCertified is providing an ongoing and extremely valuable service to automotive dealers.WomenCertified is offering added motivation and recognition to dealerships for achieving that superior level of customer service and satisfaction that all dealerships aspire to. Dealer Communications has been very pleased to sponsor this endeavor and work in partnership with WomenCertified, during 2011, and will continue to do so this year," said Roscoe.
For information on how dealerships can become eligible for the 2012 Top Dealerships for Outstanding Customer Experience, visit: www.womencertified.com or email: info@womencertified.com or phone: 1-866-937-6996.
Author: