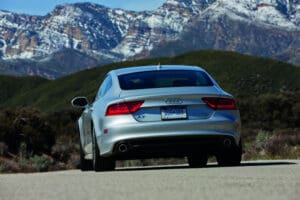 HERNDON, Va. — Audi announced that AUTOMOBILE Magazine selected the Audi A7 as its 2012 Automobile of the Year.  AUTOMOBILE editors selected the A7 for its embodiment of everything a luxury buyer would want in a car – design, performance, and technology. AUTOMOBILE Magazine President and Editor-In-Chief Jean Jennings will present the award during the Los Angeles International Auto Show next week.
"The Audi A7 boasts bold styling and dramatic features, making it an icon of design and technology.  We're thrilled that AUTOMOBILE Magazine has selected A7 as the Automobile of the Year," said Johan de Nysschen, President, Audi of America.
The four-door luxury A7 was chosen for its sleek, striking design, innovative use of a hatchback, cutting-edge technology and powerful engine.  AUTOMOBILE editors cited the A7's effortless acceleration provided by an all-wheel-drive supercharged 3.0-liter V-6 and eight-speed transmission, as well as the car's deft handling.
"The Audi A7 is the sort of car that, when you look at it, you want it," said Jean Jennings, AUTOMOBILE Magazine editor-in-chief. "The closer you get to it, the more you love it. Every mile you drive, you cannot believe how beautiful it is inside. Audi has positioned it perfectly between the A6 and A8 as a great all-around car providing class-leading storage space, a great powertrain, and really compelling design."
The seamless fusion of style, luxury and technology, every detail of the A7 delivers a striking visual statement. The A7 was the first car in the world to feature factory-installed Wi-Fi with Audi connect™ and navigation with 3-D Google Earth.  From the groundbreaking MMI® touchpad and its gracefully integrated display screen, to the state-of-the-art head up display, the Audi A7 is the perfect marriage of progressive design and sophisticated engineering. The A7 also sets a high standard for performance, handling and efficiency with an all-aluminum Audi 3.0 liter TFSI® V6 engine, 310hp and 325 lb-ft. of torque. Visit http://models.audiusa.com/a7 to learn more about the 2012 Audi A7.
ABOUT AUDI 
Audi of America, Inc. and its U.S. dealers offer a full line of German-engineered luxury vehicles. AUDI AG is among the most successful luxury automotive brands globally. During 2010 Audi was the top performing luxury brand in Europe, and broke all-time company sales records in the U.S. Over the next few years, AUDI AG will invest nearly $16 billion on new products and technologies. Visit www.audiusa.com or www.audiusanews.com for more information regarding Audi vehicle and business issues.
About AUTOMOBILE Magazine
AUTOMOBILE Magazine, part of Source Interlink Media, LLC, is America's leading automotive lifestyle publication and reaches 4.6 million readers monthly; through its print, online and digital components the brand counts an audience of over 6 million. Automobile Magazine, which presents annual All-Star and Automobile of the Year awards, is written for the sophisticated enthusiast and profiles high-end vehicles with compelling editorial and photographic content. For more than 25 years, AUTOMOBILE Magazine has set the standard for automotive journalism, maintaining its devotion to auto adventure and an editorial approach that emphasizes "No boring cars!"
About Source Interlink Media
Source Interlink Media is the premier source of special interest media in the United States. With more than 70 publications, 90 websites, 400 branded products, 65+ events, and TV and radio programs, SIM is the largest provider of content to enthusiast communities interested in automotive, action sports, marine and other niche activities. The division's strategy is to wholly focus on targeted audiences by leveraging and expanding upon its core market-leading brands through a multiplatform media approach.
Author: