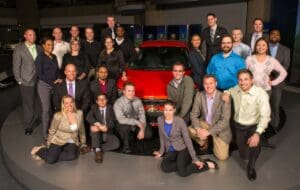 GM Connects Customers with Infotainment Systems
DETROIT – In an industry first, General Motors is deploying a team of 25 young and tech-savvy Connected Customer Specialists to dealerships nationwide to help owners understand how to get the most out of their Chevrolet MyLink, Cadillac CUE and Buick and GMC IntelliLink infotainment systems.
Consumer electronics and service industry backgrounds provide ideal experience for vehicle infotainment support
"While our infotainment systems are designed to be intuitive and easy to operate, we're taking a proactive approach to ensure customers receive the expert support they may need," said Alicia Boler-Davis, vice president of Global Product Quality and Customer Experience. "This is one of many ways we are taking care of our customers after they've made their purchase."
Hundreds of applicants were considered for the 25 positions allocated specifically to training and educating GM dealerships on the use of the MyLink, CUE and IntelliLink systems, capable of providing information, navigation, communication and entertainment.
The infotainment specialists have worked in numerous tech support roles dispensing counsel at "genius bars" for computer and communications companies, helping customers navigate through new technologies.  The specialists will work mostly in geographic areas they're already familiar with demographically and culturally.
"Our new specialists with an average age in their mid-twenties bring the right kind of experience to our team," said Boler-Davis. "They grew up with the phones and technology that our infotainment systems connect with. They know customers and will help with their needs, which is what our company is all about."
Ara Eckel, a Connected Customer Specialist leader in New York, worked in training at one of the best-known computer companies in the world. . "Bringing that knowledge to my new infotainment job at GM will help with our goal to exceed expectations of our customers."
Zita Zheng, a Connected Customer Specialists working in Seattle, added: "There is a high level of expectation and comfort when it comes to computers, tablets and cell phones and other technologies we use every day. I will make sure that GM's customers enjoy the same levels of comfort with their vehicle infotainment systems that might be new to them."
Connected Customer Specialists will help identify and train Certified Technology Experts at every U.S. Chevrolet, Cadillac, Buick and GMC dealership as well as sharing customer feedback to the GM Quality and Engineering teams to make improvements in current and future vehicle programs.
In addition to the training provided by the specialists to GM dealerships to support and help customers, a dedicated call center with a direct OnStar link assures that customers are connected, knowledgeable and comfortable with their sophisticated new infotainment systems.
"This total initiative is another example of GM's transformation into a customer-centric organization with the goal of providing the most exceptional and memorable ownership experiences in the automotive industry," said Boler-Davis. "We've recruited and employed the best people to support our dealers and customers.  No other automaker has offered connectivity coupled with support at this level."
General Motors Co. (NYSE:GM, TSX: GMM) and its partners produce vehicles in 30 countries, and the company has leadership positions in the world's largest and fastest-growing automotive markets.  GM's brands include Chevrolet and Cadillac, as well as Baojun, Buick, GMC, Holden, Isuzu, Jiefang, Opel, Vauxhall and Wuling. More information on the company and its subsidiaries, including OnStar, a global leader in vehicle safety, security and information services, can be found at http://www.gm.com.
Author: