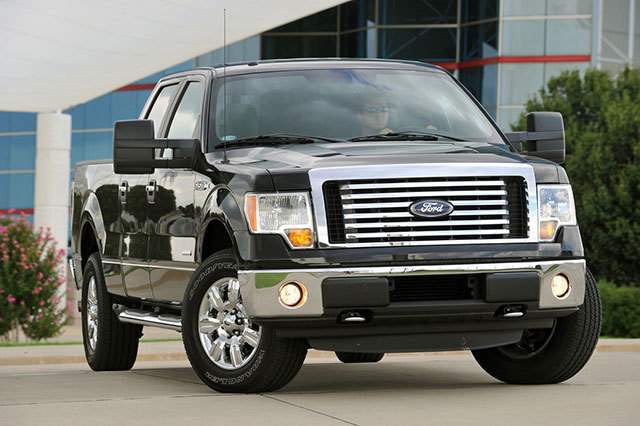 Last year was the year of the mid-size sedan. With five of the top seven automakers in the U.S. introducing fresh redesigns, America's most popular auto segment became even bigger. Overall in 2012, mid-size car sales were 22 percent higher than the previous year, increasing by nearly 450,000 units. In fact, the mid-size segment accounted for more than a quarter of the industry growth in 2012. But as good as last year was for mid-size cars, the freshness seems to have worn off quite a bit, as sales so far in 2013 are tracking just slightly over last year's numbers and below the industry average.
This year, a similar story is taking place – full-size pickup sales are up a staggering 20 percent as this segment is responsible for around 30 percent of this year's sales growth. In particular, the Detroit Three have reason to celebrate because trucks have accounted for close to 45 percent of their 2013 growth so far. But a couple of questions should be on everyone's mind: How long will this momentum continue? Are we seeing the peak of new truck sales right now, similar to mid-size cars in late 2012? To answer these questions, Kelley Blue Book took a look at the factors currently driving truck sales.
The real estate market is closely tied to both the new- and used-truck market, and trends in 2013 already are positive. Much like truck sales this year, new home construction starts are averaging 20 to 30 percent higher than in 2012, and home prices are on the rise. As construction came to a crawl and home prices tumbled in 2008 onward, so did truck sales at 13.7 percent market share in 2007, but share has not been above 12 percent since 2008.
What this means is an aging fleet of pickups, which is more than 10 years old on average according to Polk. Those who rely on their trucks for work or personal use need replacements, and new inventory has been hovering around 100 days supply in the early months. While high inventory has resulted in a ramp-up in incentives, you can bet the manufacturers are still pulling a hefty profit and they'll do everything to sell their highest margin vehicles.
New product in the marketplace has been a major factor in 2013, continuing through the end of next year. The refresh of the RAM pickup in late 2012, launch of the all-new Chevrolet Silverado and GMC Sierra in mid-2013, and planned redesign of the Ford F-Series in 2014 means automakers will be fighting for market share against the newest offerings from its competitors. It also will mean consumers and companies can upgrade their aging trucks to a fresh, new, technology-rich models.
While not the primary concern for truck buyers, fuel prices remain a concern for many American consumers. Gas prices through the first half of the year averaged 10 cents cheaper than last year, while the Energy Information Administration forecasts prices to fall 10 cents more in both 2013 and 2014. Highly touted (and marketed) fuel-saving technology, such as Ford's EcoBoost and GM's variable displacement, is pushing EPA highway ratings toward 20 to 25 mpg, while maintaining the power and torque consumers demand.
Thus far, 2013 has been a fantastic year for full-size pickup truck makers, and the year is still young. During the last three years, nearly 55 percent of trucks were sold in the second half of the year. Barring any major economic setback this year, we could see truck sales approach 1.9 or 2 million in 2013, which would be around 300,000 units from last year. This would push market share into the mid-12 percent range and boost profits all-around. As the housing market improves and automakers battle for market share in this growing segment, sales should continue to rise through next year, making Ford, GM, and Chrysler very happy.
Written By: Tim Fleming
Author: