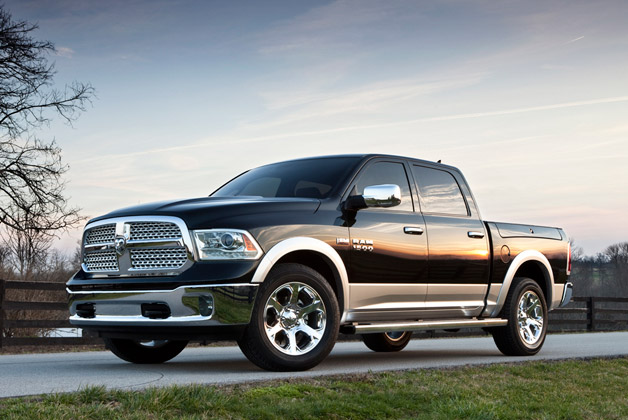 Chilton, WI – Every vehicle manufacturer likes to boast about their vehicles. Many of them need to be taken with the biggest grains of salt. However, the 2013 Ram 1500 in Sheboygan, WI is the example that disproves that rule. With a list of awards and enough trophies to give the payload capacity of its competitors fits, the 2013 Ram 1500 in Sheboygan, WI offers more than flashy advertisements and hollow promises to the most discerning full-size truck buyers. Central Garage of Chilton, a member of the Vande Hey Brantmeier Automotive Group, is proud to have a full selection of these award-winning pickup trucks ready for sale.
Just some of the many awards that the 2013 Ram 1500 in Sheboygan, WI has taken home in the last few months are: AOL Autos "Truck of the Year," Motor Trend Magazine's "Truck of the Year," the Detroit Free Press' "Truck of the Year" and finally Consumer Guide Autos "Best Buy Award." That is some heavy recognition for a heavy duty pickup truck.
So what were all of these prestigious publications looking for exactly that they bestowed such honors of the 2013 Ram 1500 in Sheboygan? It could start with the wide variety of the first-in-class technologies such as the innovative eight-speed transmission that helps the 2013 Ram record a best-in-class Environmental Protection Agency rating for fuel-economy. It might have been the first in segment stop/start system that operates in a similar matter to certain hybrid models that shuts off the engine in stop-and-go traffic conditions and further adds to the already stellar fuel-economy.
The awards people might have also been rightly impressed by the often copied and never duplicated active aerodynamic systems that help with fuel savings. The two main systems that work together in the 2013 Ram 1500 in Sheboygan, WI, to make this happen are the active grille shutters that close at highway speeds to redirect airflow and reduce drag. Also helping to that end is the active air suspension, which not only self-levels the truck in the presence of uneven loads but also lowers the truck's stance at high speeds to give it a slimmer profile to cut through the wind.
The Vande Hey Brantmeier Automotive Group's full inventory of new and used vehicles can be viewed at www.drivevhb.com. If those interested in the 2013 Ram 1500 in Sheboygan would like to take a live look at this fine truck, the dealership can be found at 516 North Madison St, Chilton, WI 53014. To schedule a test drive in Chilton people should call (920) 849-9301.
Author: