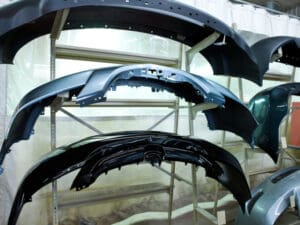 CHICAGO — Polk honored The Timken Company and Aftermarket Auto Parts Alliance, Inc. with the 2012 Polk Inventory Efficiency Award during a ceremony held last week at the Global Automotive Aftermarket Symposium (GAAS) at the Hyatt Regency O'Hare near Chicago.
The Polk Inventory Efficiency Award program, now in its eighth year, recognizes and rewards outstanding aftermarket companies for process improvements in supply chain and inventory efficiency.  This year's awards were presented by Mark Seng, vice president, aftermarket and commercial vehicle and Polk's global aftermarket practice leader, and Stephen Polk, chairman, president and CEO of R. L. Polk & Co.
"We are pleased to recognize the great work of Timken and Aftermarket Auto Parts Alliance in this year's program," said Seng. "Their contributions and success in driving industry-leading inventory management and supply chain practices within their businesses serve as a powerful example for others in the automotive aftermarket community."
The Timken Company, based in Canton, Ohio, was recognized in the Manufacturer category.  The company recently implemented a new enterprise resource planning (ERP) system in the U.S. that improved its supply chain efficiencies, including inventory planning, shipping performance, fill rates and customer satisfaction.  At the same time, Timken improved its warehouse management system and logistics management operations, fully leveraging its investment in technology.  The implementation and integration program increased year-over-year sales by 19 percent, while reducing inventory by 12 percent and increased order fill rates by 13 percentage points.
The new ERP system technology enabled Timken to implement category management processes to proactively identify and address strategic and forward-looking business opportunities, which in turn allowed distributors to capitalize on local market sales opportunities.  As a result, Timken was able to leverage this solution across its customer base, and add 134 new customers in 2011.  Based on the success of the implementation, Timken is currently working to expand its availability to customers and Timken locations outside of the U.S.
"On behalf of the entire team at Timken, we are pleased to receive this prestigious award from Polk," said Tom Tecklenburg, director, global aftermarket, The Timken Company.  "The dedicated work on this program has allowed us to provide customers with added technology and resources that guide their inventory levels, resulting in better mix and reduced returns."
Aftermarket Auto Parts Alliance was recognized by Polk in the Retailer/Distributor category.  The Alliance, representing 53 individually-owned warehouse distributorships in the U.S., conducts business in the aftermarket under the Auto Value and Bumper-to-Bumper brands.
The Alliance implemented a solution that successfully centralized and synchronized several different data sources to enhance inventory management decision making processes.  The Alliance developed applications that leverage the master database to benefit all Alliance group members.  A key example is the Inventory Optimization Tool, which members use to simultaneously right-size inventories, increase turns, enhance order fulfillment, and improve sales and working capital.
Concurrently, the Alliance developed Supplies, Accessories and Tools, a catalog which operates as a portal in tandem with aftermarket application eCatalogs and within third-party point-of-sale platforms to enable jobber and installer look-ups of non-application parts.
Results of these programs include an organic sales increase of 4.7 percent vs. control group and $38 million of inventory being redeployed to other geographic markets or replaced with faster-turning merchandise.
"We are grateful to Polk for recognizing the Alliance with the Inventory Efficiency Award," said John R. Washbish, president and CEO, Aftermarket Auto Parts Alliance, Inc.  "We're honored to join other industry leaders and serve as a role model for others considering best practices in inventory efficiency."
About the Polk Inventory Efficiency Award
The Polk Inventory Efficiency Award was established in 2005 to recognize outstanding aftermarket companies for process improvements to inventory and supply chain efficiency.  Award submissions were reviewed by a selection committee comprised of aftermarket industry leaders, not affiliated with Polk or any of the nominated companies.  Winners were selected anonymously based on a set of criteria agreed upon by the judging committee.
Garnering support from across the industry, including organizations such as AAIA and AASA, media companies such as Advanstar and Babcox and educational institutions such as Northwood University, the Polk Inventory Efficiency Award effectively blends awareness and education. In addition to building awareness and sharing best practices, the award has been successfully leveraged to provide inspiration to companies and their employees throughout the aftermarket industry.
Applications are currently being accepted for the 2013 Polk Inventory Efficiency Awards program.  For more information, and to see video segments produced highlighting the winning practices from Timken and the Aftermarket Auto Parts Alliance, please visit: https://www.polk.com/company/inventory_efficiency_awards/all_winners
About Polk
Polk is the premier provider of automotive information and marketing solutions.  The organization collects and interprets global data, and provides extensive automotive business expertise to help customers understand their market position, identify trends, build brand loyalty, conquest new business and gain a competitive advantage. Polk helps automotive manufacturers and dealers, automotive aftermarket companies, finance and insurance companies, advertising agencies, media companies, consulting organizations, government agencies and market research firms make good business decisions. A privately held global firm, Polk is based in Southfield, Michigan with operations in Australia, Canada, China, France, Germany, Japan, South Korea, Spain, the United Kingdom and the United States. For more information, please visit www.polk.com.
Source: PR Newswire (http://s.tt/1c3am)
Author: