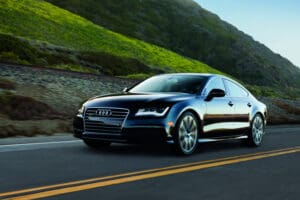 HERNDON, Va., Dec. — Audi announced that the 2012 Audi A7 has been selected by Bloomberg News as the Best Overall car for the year. The Audi A7 is profiled on Bloomberg News online.
The 2012 Audi A7 was chosen for its industry-leading technology, high style and unique 5-door coupe design.
"The A7's blend of technology, material luxury and highway-conquering drivability is almost eerie," said Jason Harper, Bloomberg News automotive critic. "The A7 has just the right amount of style and substance. You could drive your CEO boss around all day, and then pick up a supermodel date at night."
The Audi A7 sets a high standard for performance, handling and efficiency with an all-aluminum Audi 3.0 liter TFSI® V6 engine, 310hp and 325 lb-ft. of torque. The epitome of style and artistry, the A7 features a unique five-door coupe design that is both sporty and elegant. The Audi A7 can also boast being the first car in the world to feature factory-installed Wi-Fi with Audi connect™ and navigation with 3-D Google Earth. From the groundbreaking MMI® touchpad and its gracefully integrated display screen, to the state-of-the-art head up display, the Audi A7 is the perfect marriage of progressive design and sophisticated engineering.
The 2012 Audi A7 is priced starting at $59,250. To learn more, please visit http://models.audiusa.com/a7.
ABOUT AUDI OF AMERICA
Audi of America, Inc. and its U.S. dealers offer a full line of German-engineered luxury vehicles. AUDI AG is among the most successful luxury automotive brands globally. During 2010 Audi was the top performing luxury brand in Europe, and broke all-time company sales records in the U.S. Over the next few years, AUDI AG will invest nearly $16 billion on new products and technologies. Visit www.audiusa.com or www.audiusanews.com for more information regarding Audi vehicle and business issues.
Author: