By studying data from 100,000 auto warranty policies linked to family cars, Direct Buy Warranty has discovered the 10 most reliable family cars.
NEW YORK — By studying data from 100,000
auto warranty
policies linked to family cars, Direct Buy Warranty claims to have discovered the 10 most reliable family cars. Direct Buy Warranty's study analysis vehicles that have aged three to five years, and they have found the 10 models that have suffered the least breakdowns. Direct Buy Warranty has also used this study to examine what the most common occurring failure for each make/model was and how much the average repair cost for these vehicles has been over the past 3-5 years.
Rick Stanley, Managing Claims Supervisor of Direct Buy Warranty, said "Almost every car will go bad at some point. However, there is absolutely nothing worse than the family's excitement at setting off on holiday being destroyed by an afternoon spent on the hard shoulder due to mechanical breakdown. "He continues to say, "A break down is more than just an inconvenience to your holiday, it is also a huge dent in your wallet."
Due to Direct Buy Warranty's unique position as an Auto Warranty administrator, their data comes directly from their own customers and their customer's vehicles. This allows Direct Buy Warranty to, properly, analyze vehicle repair costs over the course of a few years and accurately determine whether or not the vehicle has a higher or lower than average cost of repair.
Family cars and trucks contain midsize as well as full-size automobiles, the most preferred autos in the country, and we anticipate them to meet the bulk of our needs the the vast majority of the time while performing reliably every single day of our fast paced lifestyles. When we do buy a new family car, we typically spend about $30,000 and we finance expenses for five or six many years, a period of time during which we would prefer to avoid big repair costs.
Toyota Avalon
If maximum interior space combined with maximum fuel economy is what you're seeking in a reliable family sedan, the Toyota Avalon deserves consideration. The Avalon is among the most dependable vehicles in its class according to Direct Buy Warranty. The Toyota Avalon is also one of the cheapest vehicles to maintain according to Direct Buy Warranty's Extended Auto Warranty Claims over the past 5 years.
A big, cushy cruiser, the Avalon slots above the Camry as a full-size sedan. If excellent dependability and safety ratings and a roomy back seat excite you, then we suggest you look closely at the Avalon.
Honda Civic
Smaller and more affordable than the prototypical family car, the Honda Civic is nevertheless plenty car for many families. In addition to offering comfortable seating for five, the Civic is capable of up to 39 mpg on the highway and is available with a new display that shows fuel economy, music info and even your favorite family photos. Direct Buy Warranty rates the Honda Civic as the best choice for small families based on the Honda Civic's low parts cost and extremely low breakdown rate.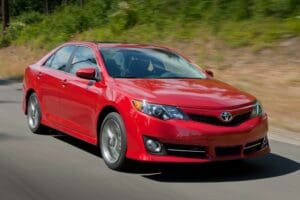 Toyota Camry
The Toyota Camry has become an icon of Family safety and reliability over the course of the past 20 years. Direct Buy Warranty has found that the Camry is the most purchased mid-sized family car is America and quite possibly the cheapest to keep going. Direct Buy Warranty's data reveals the Camry to also have some of the best reviews by owners.
Honda Accord
Though the Accord Sedan is sailing through its final year before a complete redesign, it remains a rock-solid choice in the family sedan class. Quality and reliability are well regarded by Direct Buy Warranty and Consumer Reports, and the Accord Sedan gets the highest honors for crash-test performance with an IIHS Top Safety Pick award and a rare 5-Star overall rating from the NHTSA.
Volkswagen Passat
Direct Buy Warranty deems the Volkswagen Passat as the only vehicle on the list with less than a 5% major claims rate. "Only 1 out of 50 Volkswagen Passat owners have reported a breakdown costing more than $200.00." says Robin Johnson.
Mazda 6
Not best at anything, but not bad at anything either, the Mazda 6 family sedan is a bit of a wallflower in the midsize class, odd given it's bulging fenders, swoopy roofline, and impressive handling capabilities. Reliability is better than average, and the NHTSA says the Mazda 6 protects its occupants at an overall 4-Star level.
Mazda 5
The Mazda 5 is a mini-minivan, if you will, a three-row, six-passenger, family car with sliding side doors and a fuel-efficient four-cylinder engine. It is based on the Mazda 3 platform, is expected to provide better-than-average dependability over time, and is one of our Direct Buy Warranty's Picks in our 2012 Minivan Buying Guide.
Subaru Legacy
The Subaru Legacy is a dependable car according to Direct Buy Warranty, a quality car according to J.D. Power and Associates, and a safe car according to the IIHS. But it is not necessarily an attractive car. Beauty, however, is in the eye of the beholder, and what the Legacy lacks in terms of superficial appeal it makes up for in character. From its grumbling boxer engine to its standard weather-beating all-wheel drive system, the Subaru Legacy stands out in the family sedan class.
Nissan Altima
One of the best-selling cars on the market, the Nissan Altima Sedan is also among the more reliable vehicles available, with Direct Buy Warranty estimating that dependability will be better than average. Couple that promising prediction with a 4-Star overall crash-test rating from the NHTSA.
Nissan Maxima
Nissan likes to refer to the Maxima as the 4-Door Sports Car (4DSC), and prices the sedan in entry-luxury territory where it overlaps with the Infiniti G25 Sedan. Direct Buy Warranty's take is that the Maxima is neither a sports car nor a luxury sedan. Rather, it is a sport sedan, one that ranks highly in J.D. Power's Initial Quality Study and which protects its occupants at a 4-Star level according to the NHTSA.
Author: