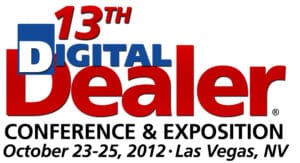 More than 1,100 franchised automotive dealers and managers traveled to the Digital Dealer Conference to learn how to utilize the Internet and technology to sell and service more vehicles more profitably

DETROIT, MI —  The 13th Digital Dealer Conference & Exposition, the industry's premier digital strategy conference, posted record total attendance assembling more than 2,300 automotive professionals representing dealerships, OEM, exhibitors, press representatives and allied industry guests. Over 1,100 dealers and managers from across the country, along with visitors from Australia, Brazil, Canada, Denmark, Italy, Mexico and New Zealand, convened at the Mirage Hotel October 23rd – 25th in the heart of the Las Vegas strip to learn the latest digital strategies and meet with more than 120 vendors presenting cutting-edge technology solutions for franchised dealerships.
Nearly 70 members of the OEM community visited the 13th Digital Dealer Conference & Exposition from Chrysler, Chrysler Canada, Ford, GM, Kia, Jaguar, Land Rover, Lexus, Nissan, Porsche, Toyota, Subaru and Volkswagen. These representatives were on hand to learn about new technology and which solutions to implement and recommend to their network of dealerships.
The conference featured multiple new avenues for dealership owners, general managers, Internet directors, e-Commerce managers, BDC managers, CRM managers, pre-owned managers, F&I managers, fixed operations managers, marketing directors and social media managers to learn how to utilize the Internet and technology to sell and service more vehicles more profitably.
"While the Digital Dealer model is often imitated, it is never duplicated," stated Michael Roscoe, CEO of Dealer Communications, the host company for the event. "We are constantly striving to evolve our platform and for Digital Dealer 13 we introduced several new learning and networking options, while maintaining the model that has made Digital Dealer the ultimate learning and networking environment."
More than 100 sessions, workshops and case studies were presented by thought leaders with direct experience in the automotive business.  Specialized tracks for Social Media, Pre-Owned, and Fixed Operations were offered, and the educational curriculum covered 26 key topics relating to dealership operations, such as CRM, customer behavior, digital marketing and reputation management. Each session was labeled as 'Fundamental,'  'Intermediate' or 'Advanced,' helping attendees to customize their learning experience. Keynotes were presented by Google and Facebook offering strategies and best practices on how dealerships can utilize these two major social media platforms to their advantage.
Reggie McCaw, Internet Analyst at the Tony Group Autoplex in Hawaii, summarized many benefits of attending Digital Dealer. "The conference has been extremely informative. I've taken in information to help drive new processes to reach and engage my customers, such as CRM options, reputation management tools, along with utilizing Facebook and Google strategies."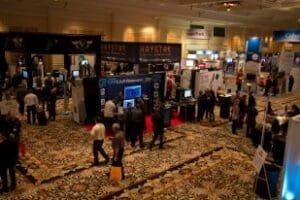 The action began Tuesday, October 23rd with the Peer Networking Roundtables, uniting dealerships from across the country to compare metrics and results. Sponsored by Dominion Dealer Solutions, this one-of-a-kind event provided an opportunity for dealers and managers to connect with fellow peers to solve their toughest issues.
"Attending Digital Dealer has really provided a platform to learn how the Internet continues to evolve the automotive business. It has been incredibly informative and I'm taking home a little bit of everything. Being here, learning from sessions and meeting my peers, has put me on track to understand changes in the marketplace and how to handle our next steps as a dealership," stated Jeffrey Frankel, Sales Manager from Mercedes Benz of Rockville Centre, NY.
Digital Dealer Learning Labs were held for the first time giving attendees opportunities to meet with experts to get one-on-one coaching on how to improve in areas such as: Google Strategies, Facebook Strategies, Mobile Apps, e-Newsletters, Search Engine Optimization (SEO), Social Media Strategies, BDC Processes and Video Strategies, Telephone Scripts and Service mobile strategies. These new targeted sessions delivered customized, actionable feedback from pre-eminent market leaders specializing in these critical areas of dealership operations.
"I walked away with so much good information and ideas to bring back and implement in the dealership right away. I'm in the BDC department and getting customers to show is an issue.   We are setting up a lot of appointments and we have a good close rate when they do show, but getting customers in the door is a problem. I learned a lot of techniques from the sessions and vendors to move forward with engagement tools to drive customers through our door," explained Shelly McGrael, BDC Manager of the Jim Moore AutoGroup in Fenton, MO.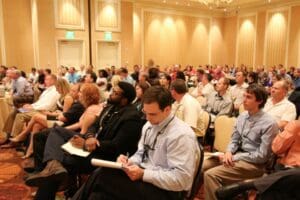 Attending dealers and managers took advantage of dedicated time in the Exhibit Hall to learn about the latest and greatest new products, services, technologies and applications. Overall attendees were greeted by more than 120 exhibitors in the Digital Dealer Exhibit Hall.
Frankel and his associates from Mercedes Benz in Rockville Centre, NY, expanded on their experience by noting, "The research and discovery on new technology we were able to accomplish at Digital Dealer is really unique; plus you can meet with your vendors face-to-face and discuss new programs and fact finding to ultimately make a better decision by product type. We're researching web solutions, SEO and more, and meeting with our vendors directly helps them better understand our needs as a dealership."
Exhibitors also got a great deal out of the direct interaction with strong dealerships from across the country.
"Digital Dealer 13 has been the best show ever for us. We sold enough in the first evening to cover the cost of being here. The right dealers were in attendance and ready to sign-up for our programs," summarized Jeff Cotton, Executive VP and Founder of AutoAlert Inc.
Chip King, Managing Partner at CallRevu, commented on the number of decision makers he was able to meet with at Digital Dealer 13. "We have seen more decision makers, dealer principals, general managers, and BDC mangers at this event than any Digital Dealer in the past. We had to go to the business center to print more contracts, because people signed contracts right here at Digital Dealer. It was awesome!"
Beyond the Exhibit Hall and new education options, other industry players used the 13th Digital Dealer Conference & Exposition to work with their dealership partners. Leading members of the OEM community were on hand to learn about new solutions, and further educate their dealership bases on how to take advantage of the Internet and technology to increase sales.
"The Toyota Portland Region had a high percentage of its dealerships in attendance and we heard resounding positive feedback. I personally came away from the conference with pages and pages of great ideas I plan to take back to share with our dealers to help them with their e-Commerce efforts," explained Jennifer Harmount, e-Commerce Field Director for the Toyota Portland Regional Office.
Several state associations were in attendance, utilizing the 13th Digital Dealer Conference & Exposition to connect with their dealership members. "The Digital Dealer conference is an experience every dealership should take advantage of.  There are great take-aways and best practices on how to stay on the cutting edge of digital sales and service and improve a dealership's bottom line," commented Vicki Giles Fabré, Executive Vice President of Washington State Auto Dealers Association.
The event culminated on Thursday, October 25th with Digital Dealer Case Studies, in-depth examples of how specific dealerships successfully implemented a new product, service, technology or application. These detailed sessions helped attending dealers and managers better understand how to successfully implement solutions they learned about during the 13th Digital Dealer Conference & Exposition.
"The energy, excitement and number of not only attending dealers and managers, but also other industry professionals at DD13, is a testament to the power of this event," continued Michael Roscoe. "Digital Dealer is now having a major financial impact on the industry, and has quickly become the definitive source for franchised dealers to understand how to take advantage of new digital solutions to sell and service more vehicles more profitably. As an organization, we will continually improve the event to offer learning and networking opportunities they just can't find anywhere else."
All attendees of the 13th Digital Dealer Conference & Exposition were invited to join the #DD13 Digital Community, a virtual tool that helped attendees browse exhibitor listings and set appointments, map out schedules, create custom exhibition floor plans and connect directly with each other before, during, and after the event. This resource will continue to offer attendees a means to directly interact with each other for months to come, extending the value of the event.
December 5-11, 2012 the top ten educational sessions and virtual exhibits from the over 120 exhibitors will be on display in the debut of the Digital Dealer Virtual Exposition, allowing another opportunity for dealers and managers to learn progressive digital strategies to increase sales and profitability.
The industry's premier automotive digital strategy conference will return to the Rosen Shingle Creek Hotel, Orlando, FL, May 7-9, 2013.
For more information, please contact Andy Tompkins, Director of Event Marketing, at 949-278-6712.
ABOUT DEALER COMMUNICATIONS
Dealer Communications is the leading multi-media information source for franchised automotive dealers and managers.   Connecting with franchised automotive dealers and managers over ten million times per year, Dealer Communications publishes the monthly print and online editions of Dealer magazine and Digital Dealer magazine. Online weekly newsletters include Dealer; Digital Dealer; Dealer Fixed Operations; Dealer Pre-Owned; Dealer F&I, and Dealer Sales and Marketing.  Dealer Communications also offers the Digital Dealer Webinar Series, with online presentations throughout the year.  To see all that Dealer Communications offers, visit:  www.dealer-communications.com
Dealer Communications also owns and operates the Digital Dealer Conference & Exposition, the premier learning and networking venue for dealer principals, GMs, Internet sales managers, e-commerce directors, BDC managers, CRM managers, pre-owned managers, F&I managers, fixed operations managers, Marketing directors and Social Media managers.  The 14th Digital Dealer Conference & Exposition will be held at the Rosen Shingle Creek Hotel, Orlando, FL, May 7-9, 2013.
For more information, visit:  www.DigitalDealerConference.com
Author: