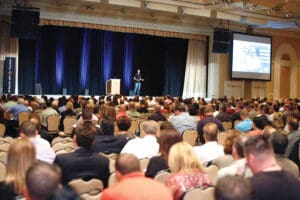 Record Crowds, Internationally Recognized Speakers, the Latest Digital Technology, New Award Series, New Dedicated Online Community for Show Attendees, and New Specialized Program Tracks
More than 1,100 dealers and managers from franchised automotive dealers, in the U.S. and around the globe, attended the 11th Digital Dealer Conference & Exposition last month at the Mirage in Las Vegas, NV.
Dealer principals, GMs, Internet sales managers, e-commerce directors, BDC directors, CRM managers, pre-owned managers, F&I managers, fixed operations managers and other automotive retail professionals were exposed to more than 90 lively presentations by innovative, leading dealers and industry experts, 95 exhibits of digital technology and a peer roundtable session with 500 dealer and manager participants.
It was the largest Digital Dealer Conference & Exposition yet, with more than 2,200 registered.
There were many firsts at this conference: 
The first Digital Dealer Website Excellence Awards were presented. (Check back next week for more information on this.)
Specialized sessions were introduced for Fundamental, Intermediate and Advanced levels and an entire track for Dealer Fixed Operations was offered.  Fixed operations managers and dealers who wanted to focus on this important profit center – took advantage of this special Dealer Fixed Operations track, which included 10 sessions, sequentially scheduled over the three-day period – all focused on issues of concern to fixed operations managers.
Another first – renowned authors and experts gave attendees the broad picture on social media and online marketing. Speakers from online giants such as: Google, Facebook, Yelp, and SCVNGR talked about the latest market trends.
World-renowned Social Media Expert Erik Qualman shared with automotive dealers and managers his insights on how Socialnomics is driving the new economy. Called the Digital Dale Carnegie, Erik Qualman is the author of Socialnomics: How social media transforms the way we live and do business. Socialnomics made Amazon's #1 Best Selling List for the U.S., Japan, UK, Canada, Portugal, Italy, China, Korea and Germany.
For the first time as part of the Digital Dealer Conference & Exposition, a social media network, the Digital Dealer Online Community, was set up for attendees – allowing them to communicate online, and via mobile, before, during and after the conference.
This online community gave attendees the unique opportunity to see who else was attending the Conference, build a network, start topical conversations, create a personalized agenda that would sync with their mobile phone, and download materials from sessions they were interested in.
Attendees were extremely enthusiastic about all aspects of the conference. Here is a sampling of their comments from a survey taken right afterwards: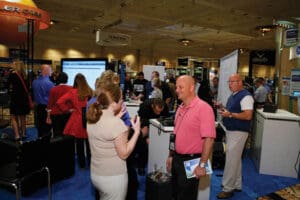 Davis Baldwin, owner of Gulf Coast Auto Park, Austin, TX, said "The conference provided excellent ideas, and clear action items for moving forward next year. Frankly, there were too many things to properly implement before next year's conference. But will try!"
David Moser, general manager of Cross Motors Corp, Louisville, KY, agreed, "We were able to learn about best practices and new opportunities from people who were actually utilizing them, not from a salesperson promoting hypothetical applications."
Bill Simmons, GM at Haley Toyota Certified Center, Richmond, VA, was equally enthusiastic: "Attending the Digital Dealer Conference far exceeded my expectations. The ability to hear industry leaders speak of their success and also being able to network with them is priceless."
Michele McGivern, Internet manager/BDC manager at Mathews Ford, Oregon, OH, said, " The conference was awesome! I learned a lot! Thank you. It changed the whole way we will be doing our Internet department."
Many attendees commented on how the Digital Dealer Conference & Exposition, in just a few short days, puts them ahead of the curve in online marketing.
Rich Finley, general sales manager of Charles Gabus Ford, DesMoines, IA, stated:  "It would have taken months or years to get the information I was able to get in a couple of days."
Eldon Harston, regional marketing manager for Lithia Motors Inc., Boise, ID, was equally enthusiastic: "In our industry, time is a scarce commodity.  Digital Dealer was an excellent chance to get completely immersed in relevant, engaging technologies and industry best practices in a condensed time frame. I left wanting more and feeling energized to make key changes for my dealer group."
"It keeps me and my dealership ahead of the curve," added Zach Madsen, sales manager at Ken Garff, in Amercian Fork, UT.  Guy Mitchell, sales manager at Brooks Biddle Automotive, in Bothell, WA, agreed.  "We are trying to stay ahead of the digital curve by attending the conference. It has sparked us to do just that!"
Curtis D. Snyder, Internet sales manager for the Gary Lang Auto Group, McHenry, IL, concurs,  "I feel that our dealer group is ahead of the curve in the digital realm. Being able to attend conferences like Digital Dealer make it possible for us to stay there."
Bryan Emrick, Internet sales manager/director at Perkins Motors, Colorado Springs, CO, echoed that sentiment, "The conference gave me great ideas to try and implement at my own store. We try to stay on the cutting edge and the conference helps me stay there."
Neil Buchholtz, Internet director for Bob Bake Chrysler Jeep Dodge, Carlsbad, CA, added, "Digital Dealer always gives me cutting edge information on where the auto industry is heading via the Internet, with top quality speakers, a great variety of topics, and the ability to compare vendors' products with first hand demonstrations."
Many attendees are already implementing best practices that they learned about at the conference:
"Digital Dealer sparked multiple ideas for our dealership which we have taken back and already started to implement just three days later. I received quality information from the sessions and overall it was a great experience. The general session with Brian Benstock was also incredibly rewarding. That session alone made the whole conference worthwhile," said Jenna Fullenkamp, marketing manager at The BMW Store, in Cincinnati, OH.
"I have always been of the opinion that if I can get one thing from a session to implement, my organization will be all the better for it, and I feel I got that from each session I attended," added Toni Anne Lupo, director of business development for the Atlantic Auto Group, in West Islip, NY.
Renee Higgins, director e-commerce/Internet sales, Davis-Moore Auto Group, Wichita, KS, noted, "Each time I attend a Digital Dealer Conference, I walk away with a wealth of knowledge and can't wait to get back to the dealership to implement and discuss new ideas and platforms."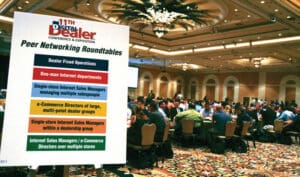 Another theme emerging from the survey respondents, was the great value the Digital Dealer Conference & Exposition offers. 
"The Digital Dealer Conference & Expositions offers more value than I can put a dollar amount too!" said Gary Myers, e-commerce director for Automax Autogroup, Oklahoma City, OK. 
Tony Rhoades, director of e-commerce, Gunn Automotive Group, San Antonio, TX, agreed:  "Digital Dealer is a great place to get your arms around all things automotive e-commerce. Thank you for continuing to provide this valuable resource."
"This conference was a great opportunity for me to learn new marketing strategies and tweak those my dealership has already implemented," said Brittney French, marketing, Mungenast Automotive Family, in St. Louis, MO.  "I took a lot of new information back to my dealership from each seminar. I learned the key principles of what it takes to successfully market a dealership through engaging, insightful social media practices."
David Sharp, ISM for the Elliott Auto Group, Cookville, TX, was equally enthusiastic.  "This conference was of tremendous value. I picked up so much that I wasn't aware of and many ways to make the things I was aware of better. Thoroughly impressed!"
"Priceless! The conference is very important to our continued growth," added Sonja Griesbach, Internet sales manager for Woodys Automotive Group, Chillicothe, MO.
"Digital Dealer is a great way to ensure our dealership has been exposed to all of the latest technologies out there. The sessions give us an opportunity to meet face-to-face some of the leaders in our industry. It's definitely the best sales "Internet/technology" related conference all year," said Timothy Shook, marketing and Internet sales director for the Continental Automotive Group, Austin, TX.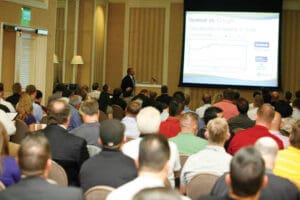 "The Digital Dealer Conference opened my eyes to a whole new way of thinking about social media," said Bob Pagani, service manager for John Hinderer Honda, in Heath, OH.
Jeff Craig, service manager at Walkers Renton Mazda, in Renton, WA, agreed. "The conference showed the importance of incorporating social media in all aspects of the dealership."
Ron Katz, operations director for Cabrera Auto, in Arecibo, Puerto Rico, was very enthusiastic about the exhibits, in particular.  He noted, "I really got a lot of good ideas from the exhibitors. I bought a lot of different products to help our dealership get to the next level.  I wish the exhibit hall had opened on Wednesday during the day, so I could have spent more time looking at the wide variety of products being offered." 
The dealer roundtables were lauded by many. Several individuals called for expanding the number of these sessions.
"I enjoy these conferences, and wish that you would do a peer networking roundtable session at least once a day. I believe that this is the most valuable part of the conference," said John Compston, Internet sales manager, Benchmark Automotive in Birmingham, AL.
Mark Lucas, sales manager for Roberts Motors, Inc., in Alton, IL, agreed: "Talking to other dealers was very vaulable; the round table was great.  We need more of them."
"The roundtable was the best part for me. Great to hear what others are doing….what works and what doesn't," noted Stephanie Soerens-Borkowski, GM at Soerens Ford in Brookfield, WI. 
"I especially enjoyed the roundtable discussion with my peers. I thought it was set up and organized well," added Mark Fucile, online business manager for Shearer Chevrolet, in South Burlington, VT.
For many attending the conference for the first time, the experience was a revelation. The reactions of these two new attendees were typical:
"It was an opportunity to learn and network with my peers in a structured, well-paced environment. I took more notes there than I did my senior year of high school. This was my first conference and I can't wait until Orlando in six months. I won't miss another one. Thank you," said Chip Hill, marketing director for Lou Sobh Buick-GMC, Duluth, GA.
"This conference is very valuable. This is my first time attending. I never would have believed this much valuable information is available in one place," noted Ed Adams, new car sales manager, McGeorge Toyota, in Richmond, VA. 
Attendees at the conference are coming to represent a wide array of roles within the dealership. The two attendees quoted below exemplify the trend:
Dennis McGinley, controller for the Gerald Auto Group, North Aurora, IL, commented:  "The conference was very valuable. It provided opportunities to meet and discuss issues with some very knowledgeable first hand users of various products. Their opinions are worth much more than those of any vendor reps. Being able to demo like products of various vendors and make comparisons is a great benefit. The sessions were very informative, and eye opening – providing information as to the impact of new technology on the auto industry."
Mike Stupeck, systems director for Henry Brown Auto Group, in Gilbert, AZ, stated, "We work very hard to be one step ahead of our competition. The Digital Dealer Conference & Exposition is our dealership's platform to becoming a better retailer in a technology driven marketplace."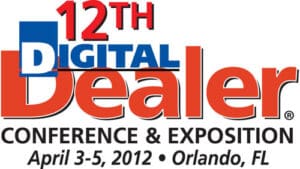 Most of the respondents to the survey indicated they would be going to the 12th Digital Dealer Conference & Exposition, which will be held in April in Orlando, Florida.
Author: