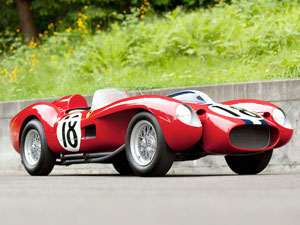 10 most expensive cars ever sold at auction, according to Popular Mechanics.
Seven-figure deals are common at the top auto collector auctions these days, and the trend is there's no limit in sight. It started in 1987, when a Bugatti Royale sold at a Christie's auction in London for $7 million, and in 1988 a barn-find Ferrari sold for $2.8 million in Monterey, kicking off two decades of multi-million-dollar prices for special cars at auction. In 2005, the total take at the four car collector auctions during the week-long Scottsdale Barrett-Jackson extravaganza was $79 million.
To understand this trend, first you need to understand a bit about car auctions: They're way different than a transaction between two people. The auction company charges a fee, called a buyer's premium, from 5% to 17.5% in addition to the selling price of the car, and the buyer has to pay it. Then, the seller may add a seller's premium. That's part of the reason most car collectors tell us an auction is the most expensive way to buy a car. Another reason is that bidding tends to raise competition beyond any other type of negotiation.
Click here to read the entire post >>
Author: