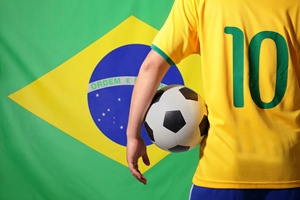 10 marketing lessons from the World Cup, according to Marketing Profs.
More than 2 Billion World Cup-related searches have been made since the event started on June 12. The opening game scored record ratings for ESPN, outpacing every other Cup dating back to 1930. Here are 10 marketing plays that helped the 2014 World Cup become the most watched in history.
1. Use controversy to your advantage
In a country where it can be unsafe to take a taxi and ATMs are too often tools for hackers to rob unwitting tourists, one stadium received $900 million in government funds to be built for the World Cup—and 13 other stadiums were also funded by the state.
Riots and protestors occupied building areas until they were forced out by police. Around the world, news of violence surrounding the Cup spread like juicy gossip. The World Cup took the negativity in stride and used it to boost viewership; as the games progressed, the bad press subsided, replaced by vast audiences.
The lesson: controversy, handled well, can be parlayed into increased audiences.
Click here to read the entire article >>
Author: