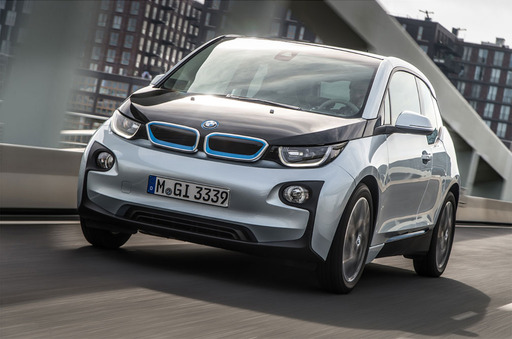 Just in time for Earth Day, eco-friendly drivers in the market for a new car can learn about the 10 Best Green Cars of 2014, hand-selected by the expert editors at Kelley Blue Book www.kbb.com, the only vehicle valuation and information source trusted and relied upon by both consumers and the automotive industry. Taking the top spot on this annual list for 2014 is the all-new, all-electric BMW i3.
Each year the KBB.com editors compile a list of the most efficient vehicles available and then pick 10 standouts featuring a variety of price ranges and powertrains. More than just a compilation of the most fuel-efficient vehicles, the list also takes into account production methods and recyclability, and the editors try to seek vehicles appropriate for varying lifestyles. With more environmental-focused models available every year, choosing the 10 best among the pack is proving to be a challenging task.
"Each year both the quantity and quality of 'green' cars is improving, offering a growing number of choices for environmentally friendly buyers at a wider range of prices," said Jack R. Nerad, executive editorial director and executive market analyst for Kelley Blue Book's KBB.com. "The all-new BMW i3 is our top pick this year. Built at an ecologically friendly plant, the i3 is offered in all-electric and gasoline-assisted range-extender versions, and it features an ultra-light carbon-fiber body to help squeeze maximum range from its battery pack. Its interior boasts plenty of recycled materials and door panels formed from visible natural fibers."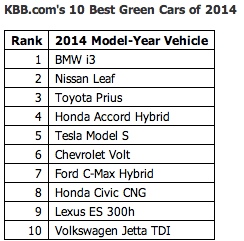 To see KBB.com's full editorial commentary for the 10 Best Green Cars of 2014, including fuel economy and range information for each model, pricing information, vehicle photography and more, please visit http://www.kbb.com/car-reviews-and-news/top-10/best-green-cars-2014/.
For more information and news from Kelley Blue Book's KBB.com, visit www.kbb.com/media/, follow us on Twitter at www.twitter.com/kelleybluebook (or @kelleybluebook), like our page on Facebook at www.facebook.com/kbb, and get updates on Google+ at https://plus.google.com/+kbb.
About Kelley Blue Book (www.kbb.com)
Founded in 1926, Kelley Blue Book, The Trusted Resource®, is the only vehicle valuation and information source trusted and relied upon by both consumers and the automotive industry. Each week the company provides the most market-reflective values in the industry on its top-rated website KBB.com, including its famous Blue Book® Trade-In and Suggested Retail Values, and Fair Purchase Price, which reports what others are paying for new cars this week. The company also provides vehicle pricing and values through various products and services available to car dealers, auto manufacturers, finance and insurance companies, and governmental agencies. Kelley Blue Book Co., Inc. is a subsidiary of AutoTrader Group, which includes AutoTrader.com, vAuto, VinSolutions and HomeNet Automotive. AutoTrader Group is a majority-owned subsidiary of Cox Enterprises.
Author: